Quick Menu
About AMEN INDIA( Action for Mankind Enlightenment Nurture )
---
Founder
Rev. T.V.Rao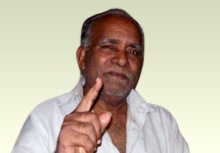 "Grace,mercy and peace from God the Father and Christ Jesus our Lord" - 1Tim.1:2

A.M.E.N-INDIA is is a faith and Bible based Organization. My father T.V.Rao [late] is a founder of this Organization.
He worked in Indian-Army and he was a rich and very dedicated man ,when he read above said scripture, and as per the Holy Spirit moves him, he sold all of his assets like paddyfield, profits, lands,etc, and started the Lord's ministry and founded this Organization A.M.E.N.-INDIA. He passed away on 17th March 2010.
President
Bro.Tatapudi.S.S.Simon Peter
This work has laid up on me and running this Organization with a burden heart, because of at present I have no any support from any Christian Ministries Or Organization. But we hope that Our Lord will supply our needs through His anointed people.
For some years, Orphans, mentally handicaped, Widows, and Lepers are all crying and praying God will show us some way to get some support for our ministry and for the destitute people.
Our Mission
Our Organization holds fast to the Word of God and has been focusing on achieving the threefold objective:

• Exalting Jesus Christ.
• Edifying the Believers.
• Evangelizing the World.
Our Vision
• More Christians, Better and good Christians
• To reach more people for Christ, to equip them to be followers of Christ for the glory of God.
Our Goal
Our goal in setting forth the scriptures is to convince non-Christians to make Jesus Christ their personal Lord and be born in to the family of God. As per 1 Timothy 2:5, we al so seek to enable each Christian to understand the the Word for himself so he can develop his own convictions, become an effective communicator of God's Truth, and fulfill his individual ministry in the Body of Christ. Jesus said that knowing the truth would set one free (John 8:32), and our teachings have practical benefit in terms of one's quality of life—spiritually, mentally, emotionally, and physically.
Our Target
Our main goal is to establish Church among the poverty-stricken people , millions of men, women and children have never met Christ. My co-workers and I are striving hard to cover more and more unreached villages for the salvation and healing of millions.
In a very particular way the Lord is guiding us for His glorious ministry.
So far, we have visited over 6000 villages with the true word of God which we learned from you. It is our basic duty to make this wonderful gospel available to all.
But I am very sorry to say that my co-workers are suffering from food, clothes and shelter along with their families. Our church believers are so poor and needy. Please pray for them and me.
So we pray God to endow us PARTENERS for up holding and rendering financial help for our poor pastors among the poorest, to enable to look after their needs. So that they can carry on the gospel work with a spirit of dedication.
Sure that our Father will return it to you one hundred fold. This is committed for your prayers and consid! eration.
May the grace , mercy and peace from God the Father and the lord Jesus Christ our Savior through the power of Holy Spirit be richly multiplies un to you.
We will be pleased to hear from you at any time
Ministry Activities